Lead your professional business in one software
Over
1800

companies trust Severa.




Severa acts as a magnifying glass for our work. With its help, we know how we're doing. It is the backbone of our operations and a competitive advantage because it enables us to do things more efficiently.
Janne Pöyhönen Customer Manager, LM & Someco
Success to the team and growth to the business!
Efficiently drive projects to completion and ensure an excellent customer experience. Understand the big picture, streamline everyday operations, and lead expert business in the right direction.
Take your projects to the finish line
Get real-time visibility into the status of all your projects with Kanban. Easily adapt to changes and see how they impact project schedules, budgets, and resource allocation.
Sales
Close your deals
Track your sales pipeline in real-time. Price your projects correctly, monitor sales forecasts, hit rates, and up-to-date sales revenue on an individual, team, and company level.
CRM
Build sustainable relationships
Aggregate customer information in one place accessible to the entire team. Identify the most profitable customers and customer segments and focus on providing the best possible service.
Record hours directly on the project for easy invoicing. Automatically transfer invoice details to accounting. Track billing forecasts for the coming months.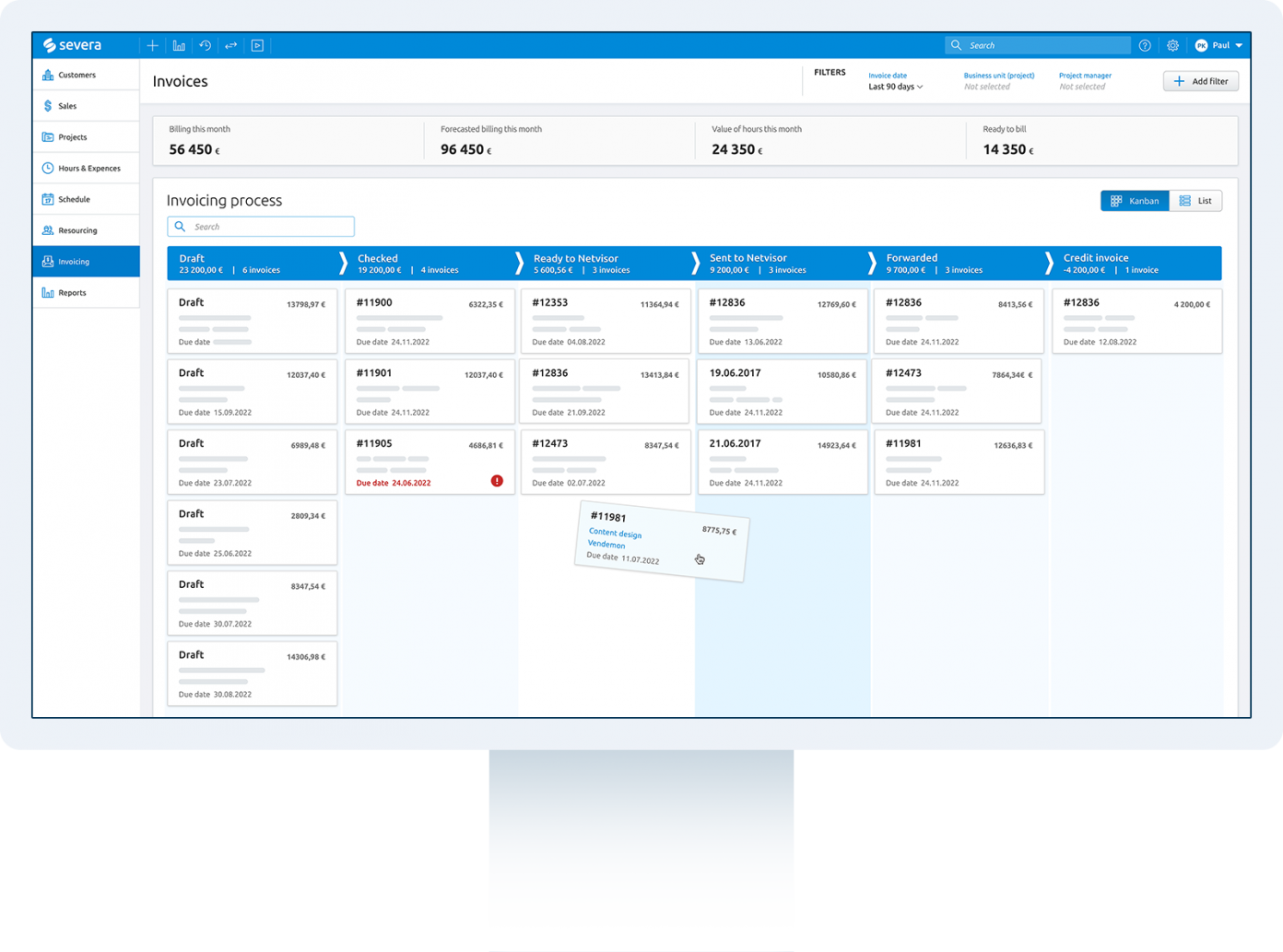 Gain a 360-degree view of your company's operations and steer your business with reliable information. Make more profitable decisions regarding projects and resource allocation.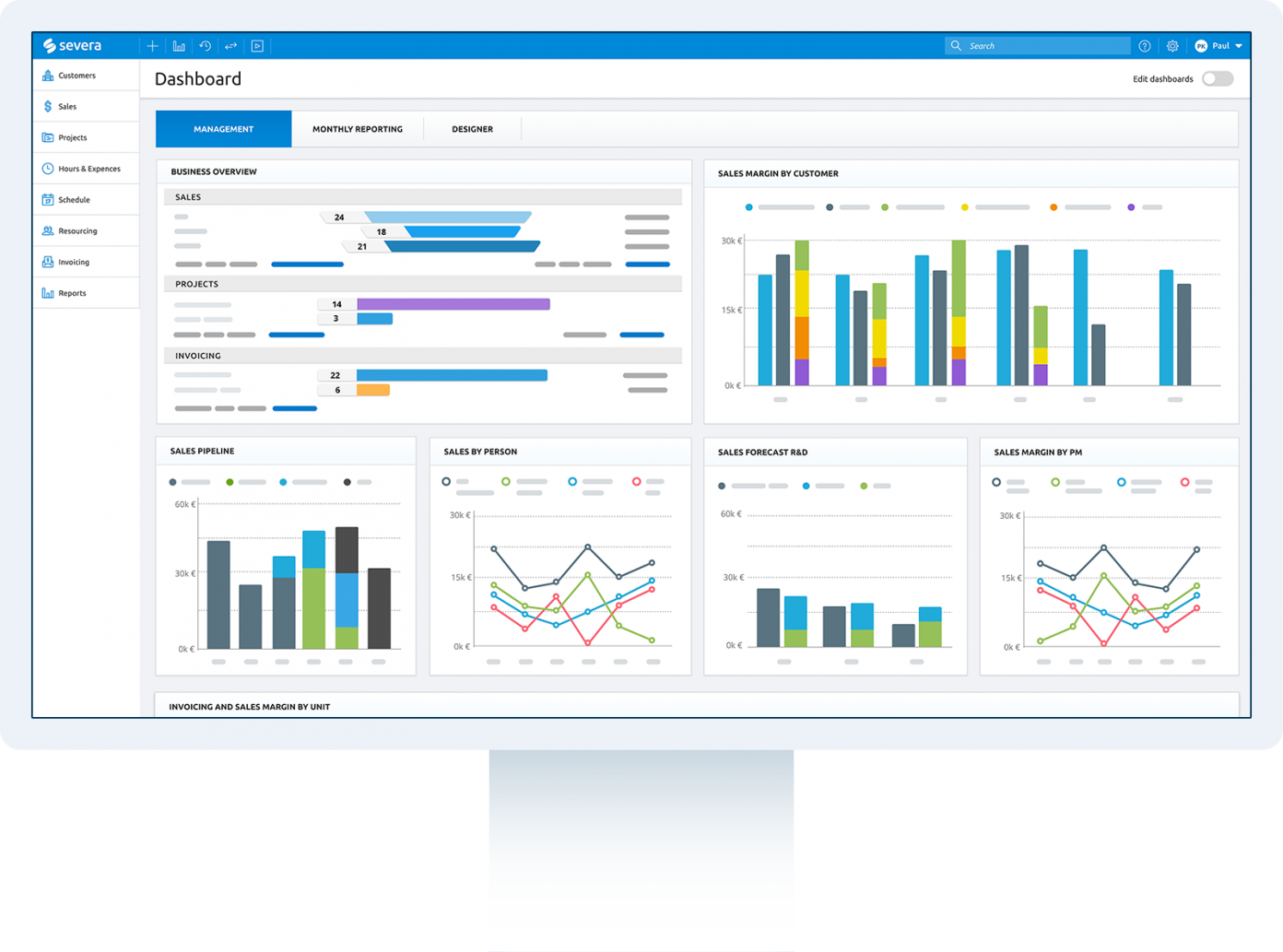 Create custom reports
Forget about scattered Excel sheets and manual compilation. Build reports with just a few clicks based on real-time data or utilize ready-made templates.
Gain insights into the future
Shift your focus from historical data to the future. Track your pipeline, project profitability, billing forecasts, and business forecasts.
Understand where your time is spent on
Allocate work hours to projects together with your team members and create a framework for self-directed expert work. Track project progress and identify demanding situations in a timely manner.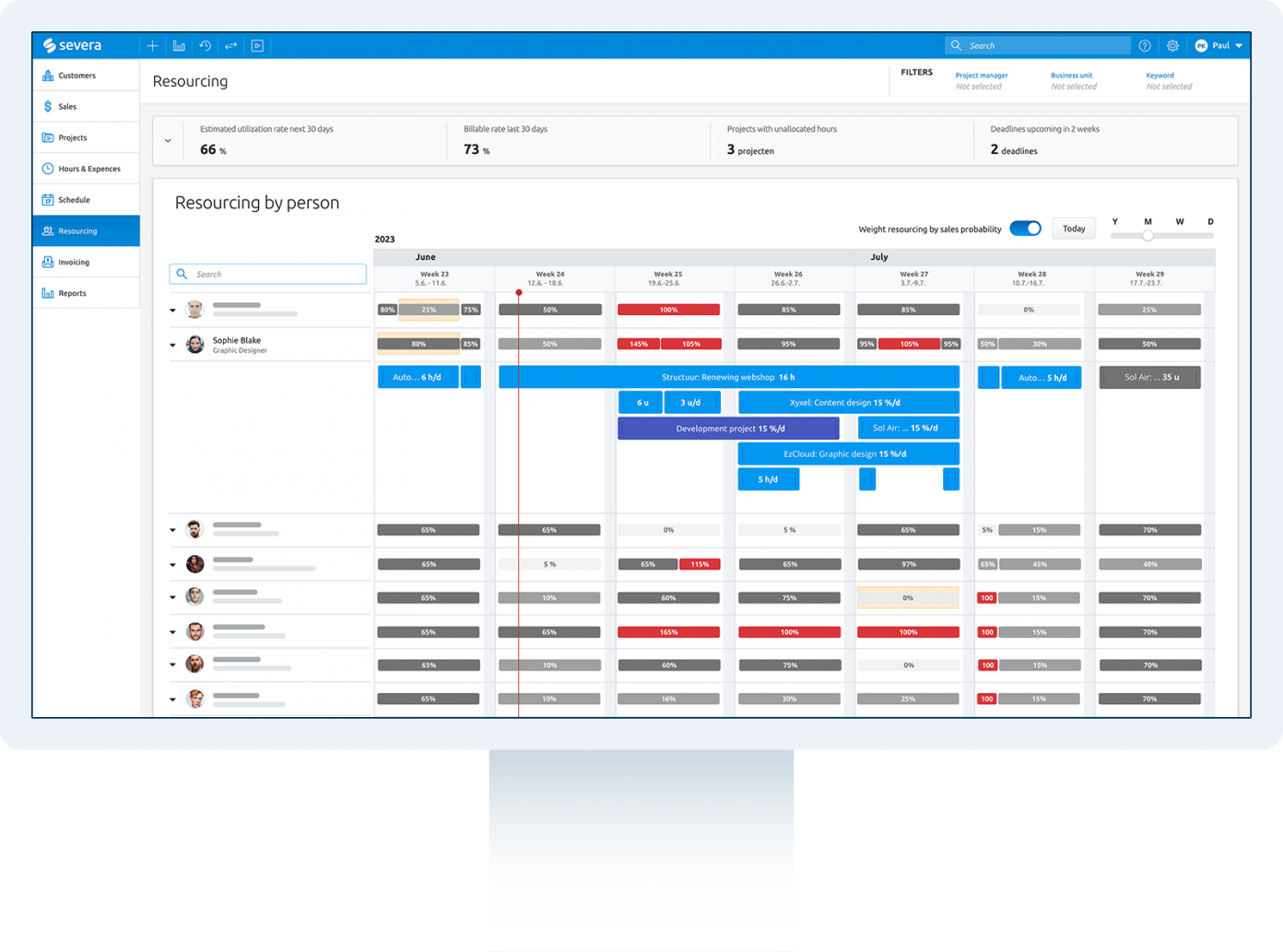 #5
Integrate other software with Severa
Take advantage of over 50 ready-made integrations or Severa's open REST API. Severa can be directly connected to Netvisor and other commonly used financial management systems.
Our customer support is here for you. We typically respond in less than an hour via chat, phone, or email, with over 18 years of experience.
Join us and start your free trial now!
We have found that companies using Severa experienced a revenue growth that is 3.5 times faster and profitability that is 1.3 times higher compared to other similar expert companies.