Get a clear overall picture of the projects
Streamline your project business with tools designed specifically for professional work.
Automate routines and increase work productivity
Information in one place
Create one common place for customer-related information. Develop sales monitoring and management and analyze which customers and which services you do best.
Automated invoicing
Offer employees an easy way to record working hours, travel expenses, deliverables and other expenses for customer work. Thanks to automated invoicing, you can be sure you're invoicing everything.
Lead with insight
Create your own reports and comparative figures on profitability, customers and projects. Sales reports, load reports and invoicing reports help manage the business.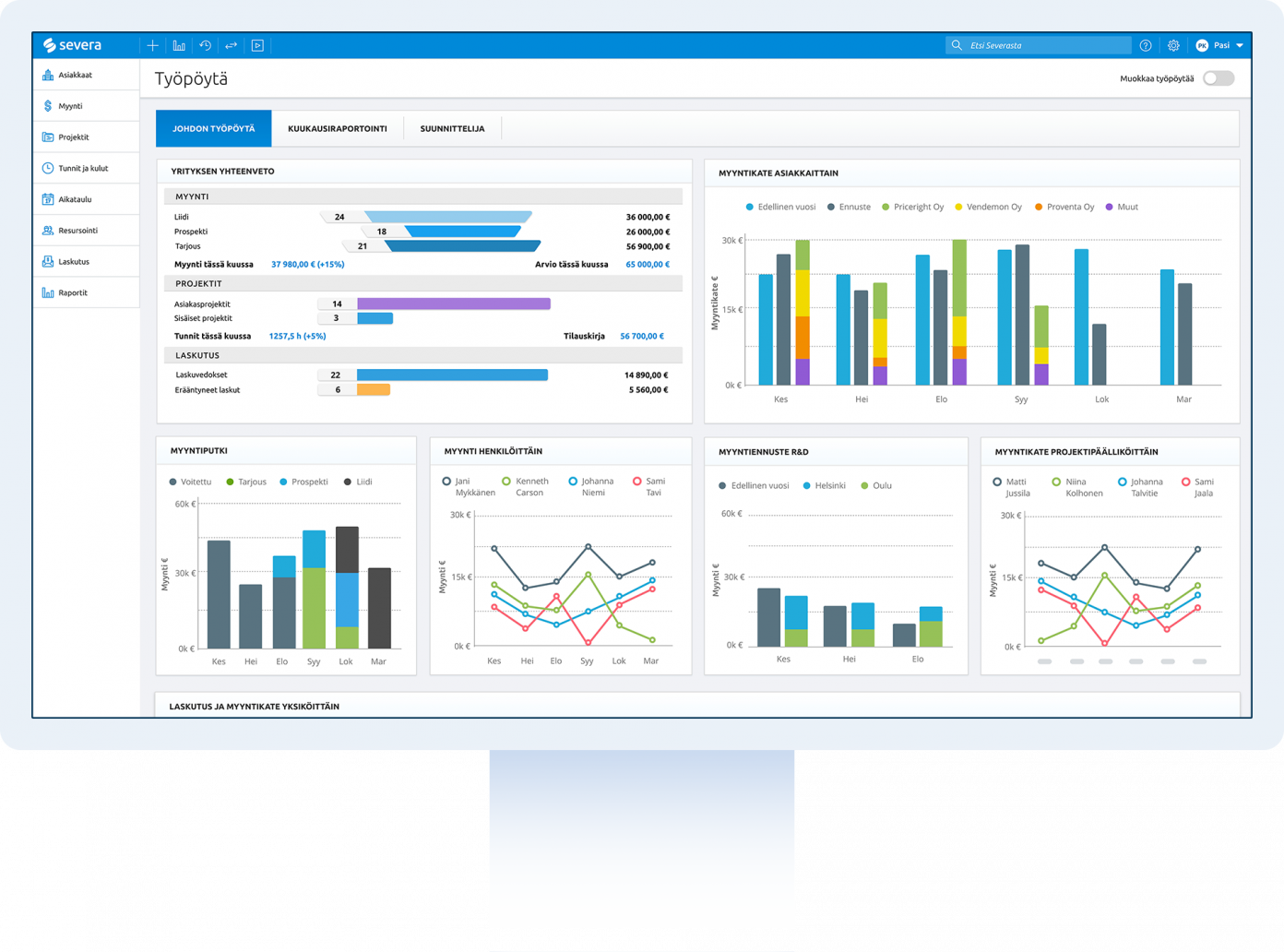 Manage projects from sales to invoicing
Monitor the offer and order base and sales forecasts. After the deals are born, you can set up and price the projects easily with the help of historical data.
Follow the progress of projects with kanban. Working time is always focused on projects, so information about the profitability of projects and customers is always up to date.
Track reports by role
Every user sees all the most relevant reports in Severa. Whether you are a sales director, project manager, expert or CEO, you can choose what you see on your desktop.
Invoice with a couple of clicks
Make sure all work is invoiced. The invoicing tool automatically collects all invoicing material from projects, working time tracking, expenses and price lists.
Increase profitability
Segment customers into groups and find the most profitable target groups. Track realized hourly prices to target prices and turn projects into production by reacting in time.
Integrate with other programs
Connect Severa to other systems in use and collect important information in one place without manual work. You will find more than 50 ready-made integrations and you can take advantage of the open interface.
Thanks to Severa, we have taken sales and profitability monitoring to a new level. We get information about what is going to be below the line even before we have time to dig for it.
Mari Hjelt, vice president, Gaia Group