Succeed
as a team

with Severa
Manage the everyday work of experts in one system. See the overall picture of your business and drive growth with Finland's most popular PSA software.
Close better deals
Take control of the big picture of your customers. See contact information, history, and previous quotes. Schedule calls, meetings, and tasks in the calendar.
Track the sales pipeline and individual cases in real time. Understand which cases require immediate attention.
Enhance upselling by segmenting prospect lists.
Create profitable quotes
Price your projects correctly with a quote tool that leverages previous project workloads, margins, resource allocation, and schedules.
Create price lists for hourly billing and link them to customer-specific information.
Predict future revenue
Track sales forecasts, hit rates, and up-to-date sales performance by individuals, teams, and company level.
Forecast future sales, billing, and resource needs.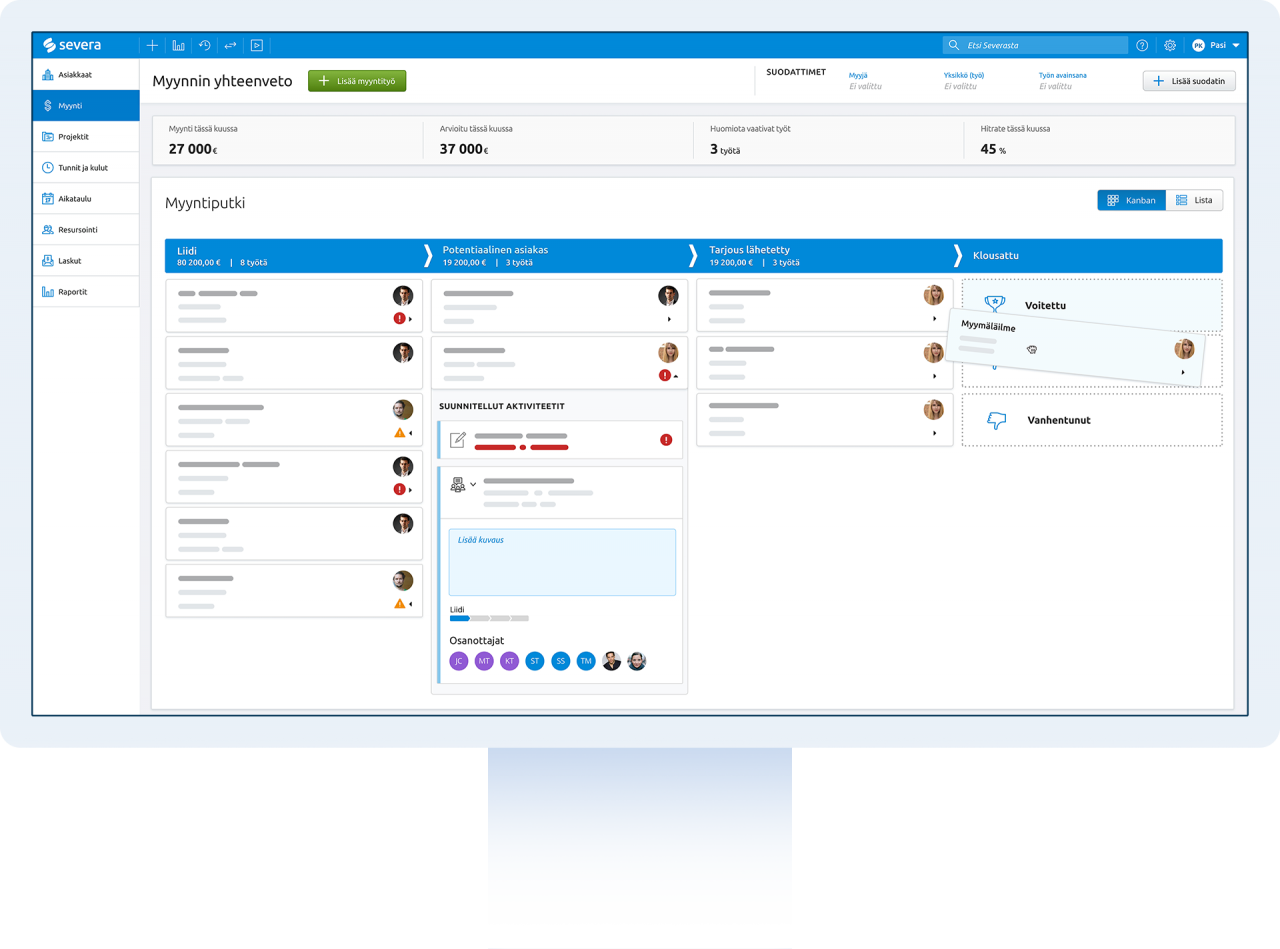 Take your projects to the finish line
Gain a detailed overview of projects: stages, schedule, customer information, key metrics, and you'll know exactly what to do next.
Track project profitability, project margins, hour forecasts, actuals, and average hourly rates – understand what project success requires financially.
Know what is expected of you
Monitor project progress and stages in real-time through kanban and Gantt views at both individual and team levels.
React quickly to changes in projects and see how they impact schedules, budgets, and resource allocation.
Free yourself from pointless typing
Create a project based on a proposal or by using pre-defined templates.
Generate invoices with a single click based on project-specific customer and pricing information.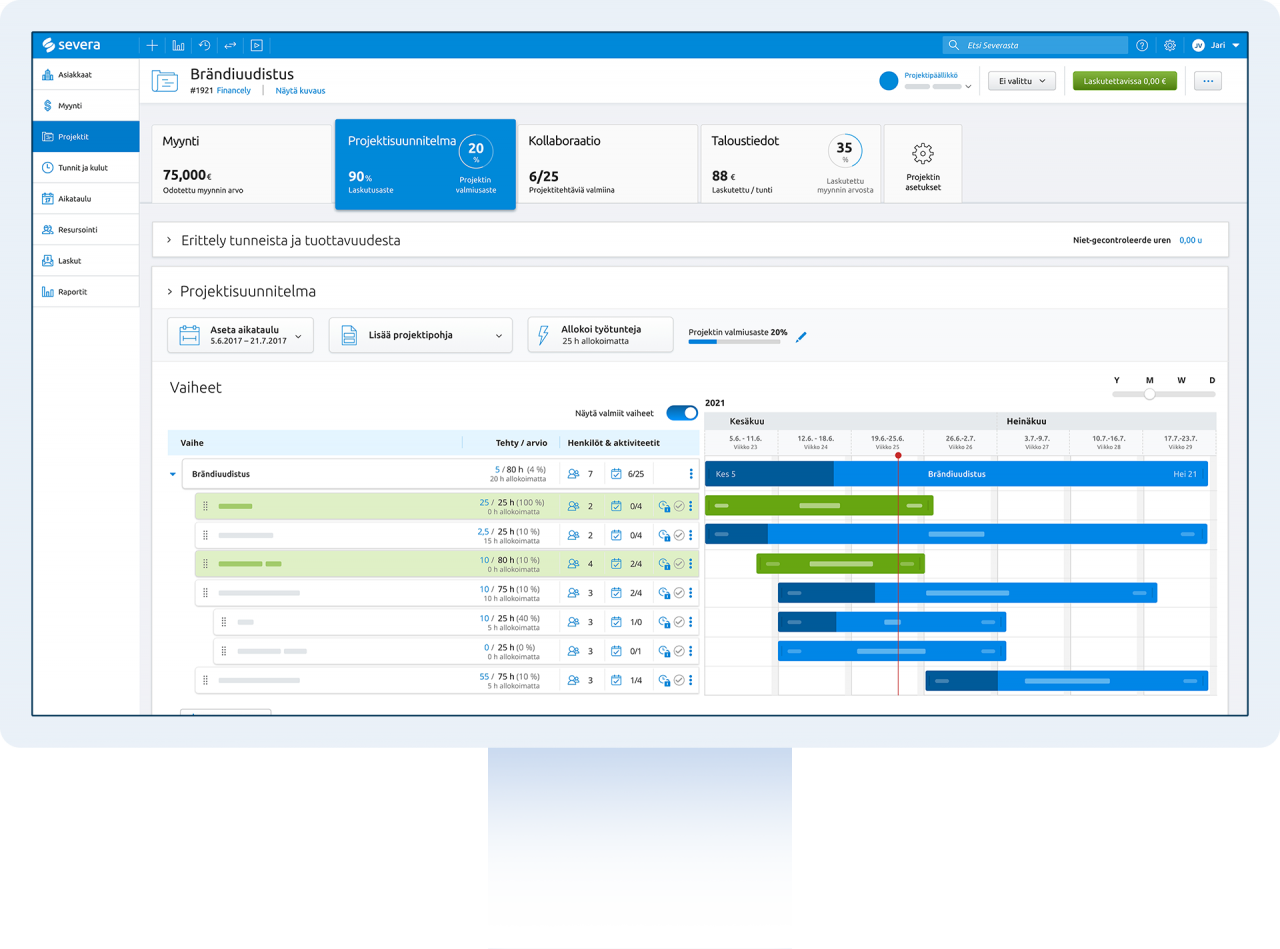 Work time management & Resource allocation
See how you spend your time
Plan and manage your own work with personal task management, calendar, and kanban view.
Manage your time by tracking work hours and monitoring the number of billable hours.
Improve time management for the entire team
Allocate work hours to projects together with team members based on each individual's schedule.
Monitor team members' workload and react promptly to situations that may be overly demanding.
Facilitate recruitment decisions by comparing the number of employees to current and future projects.
Every day is a work-time tracking day
Easily record hours and travel using Severa's mobile application on a daily basis.
The recorded hours are automatically transferred to project billing and are visible in real-time on project summary reports for the entire project team.
Through integrations with financial management systems time entries, travel expenses, and other costs can be directly transferred to payroll processing.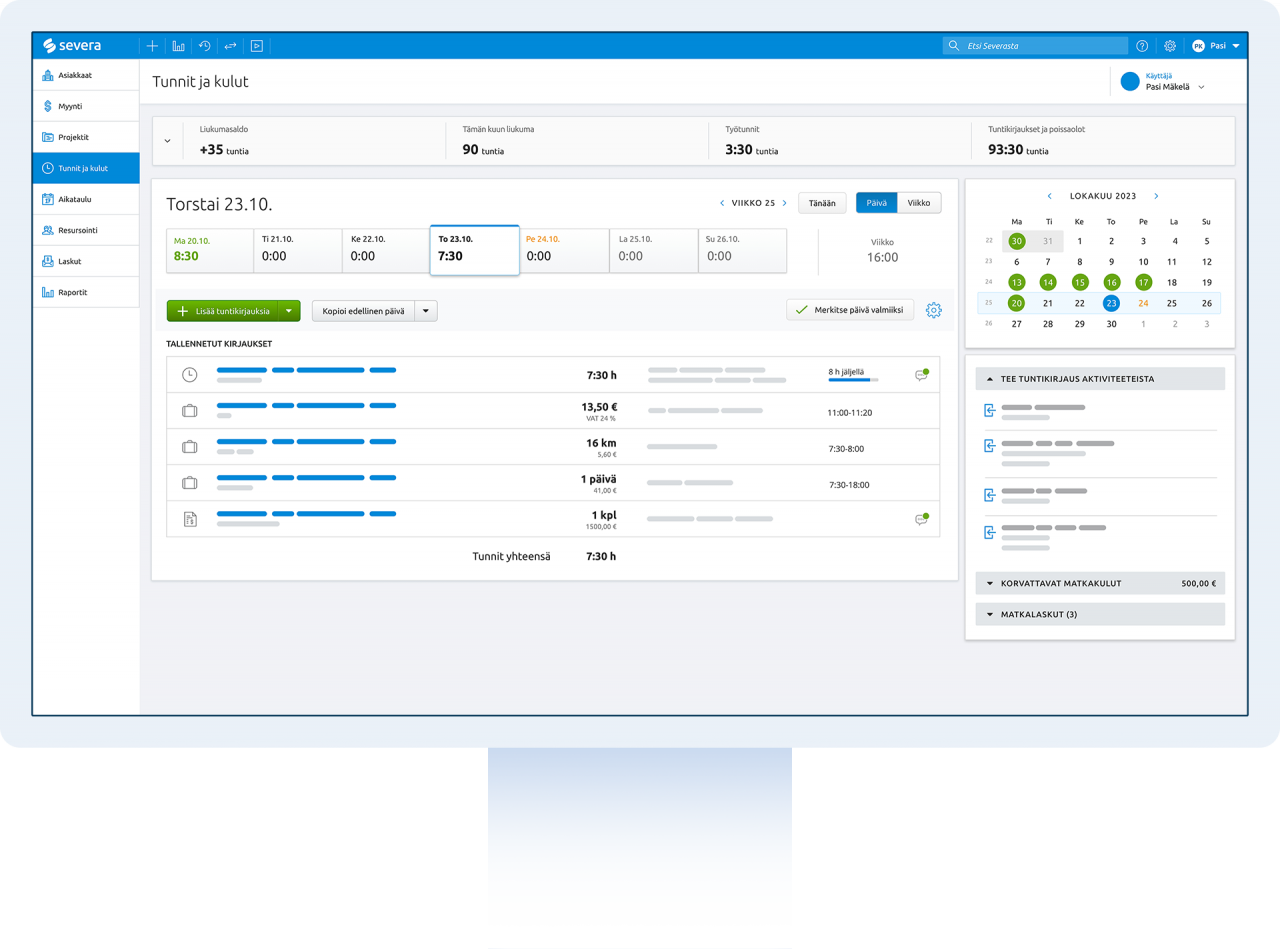 Invoice faster and turn invoices into cash quickly
Don't spend time collecting invoice materials. Severa automatically gathers hours, expenses, and travel costs for projects, making it easy to invoice them.
Invoice recurring payments with automation.
Create and manage different price lists for customers and projects.
Automate accounting processes
View billable work and invoice forecasts for future months.
Generate reports on invoicing by customers, projects, and at the company level.
Export invoice data directly to the financial management software, pre-accounted for sales ledger and accounting purposes.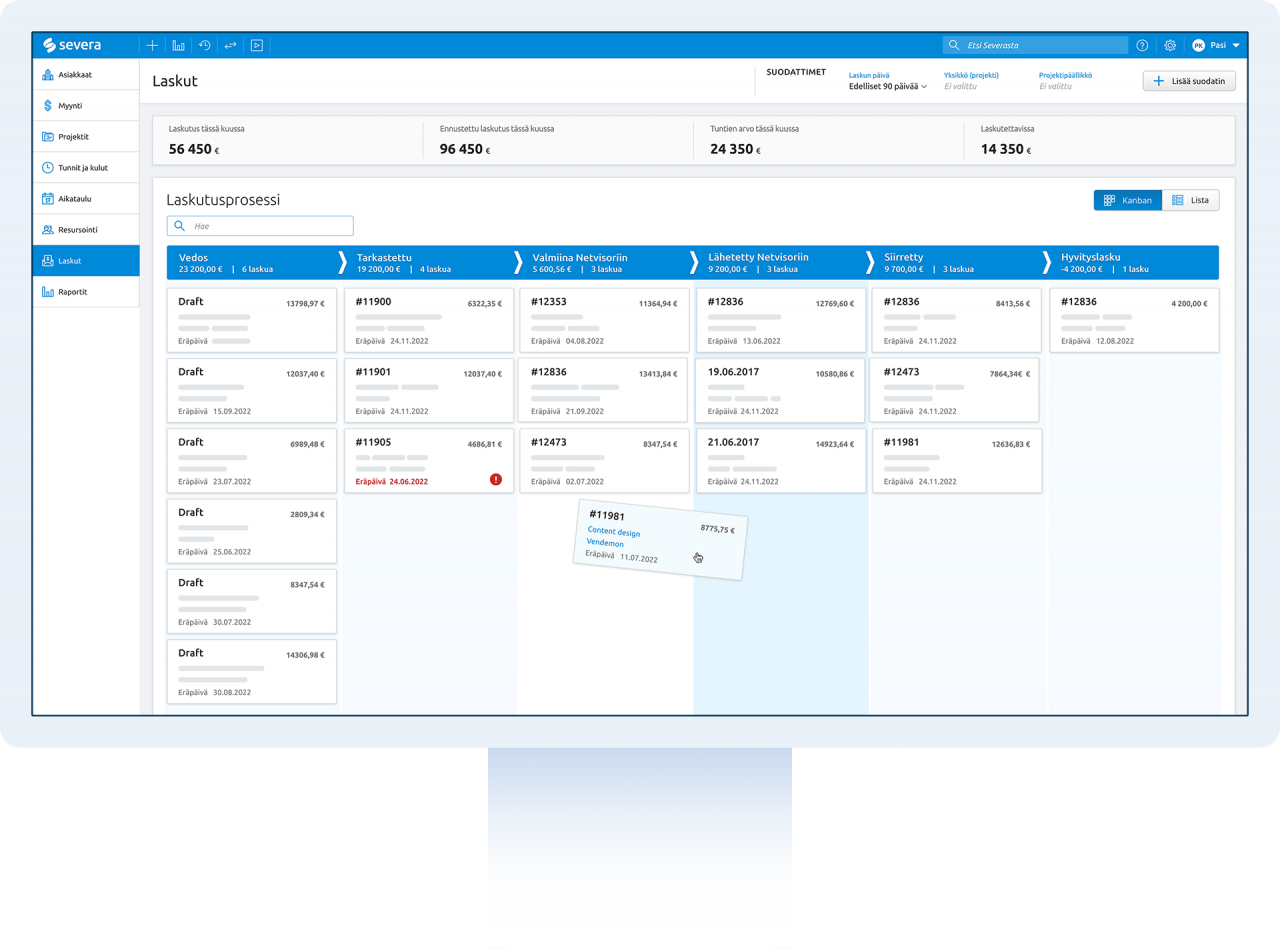 Understand what's going on now…
Build reports with a few clicks based on real-time data.
Utilize dozens of ready-made report templates. Define time periods, granularity, and the key metrics you want to analyze.
Easily share information with those who will benefit from it.
…and what will happen next
Direct your focus from completed deals to the future: forecast sales based on ongoing sales cases and proactively allocate your team's work resources.
Gain insights into the financial trajectory of individual projects and make fact-based decisions regarding their continuation.
Access forecasts about the overall direction of your business on the management dashboard.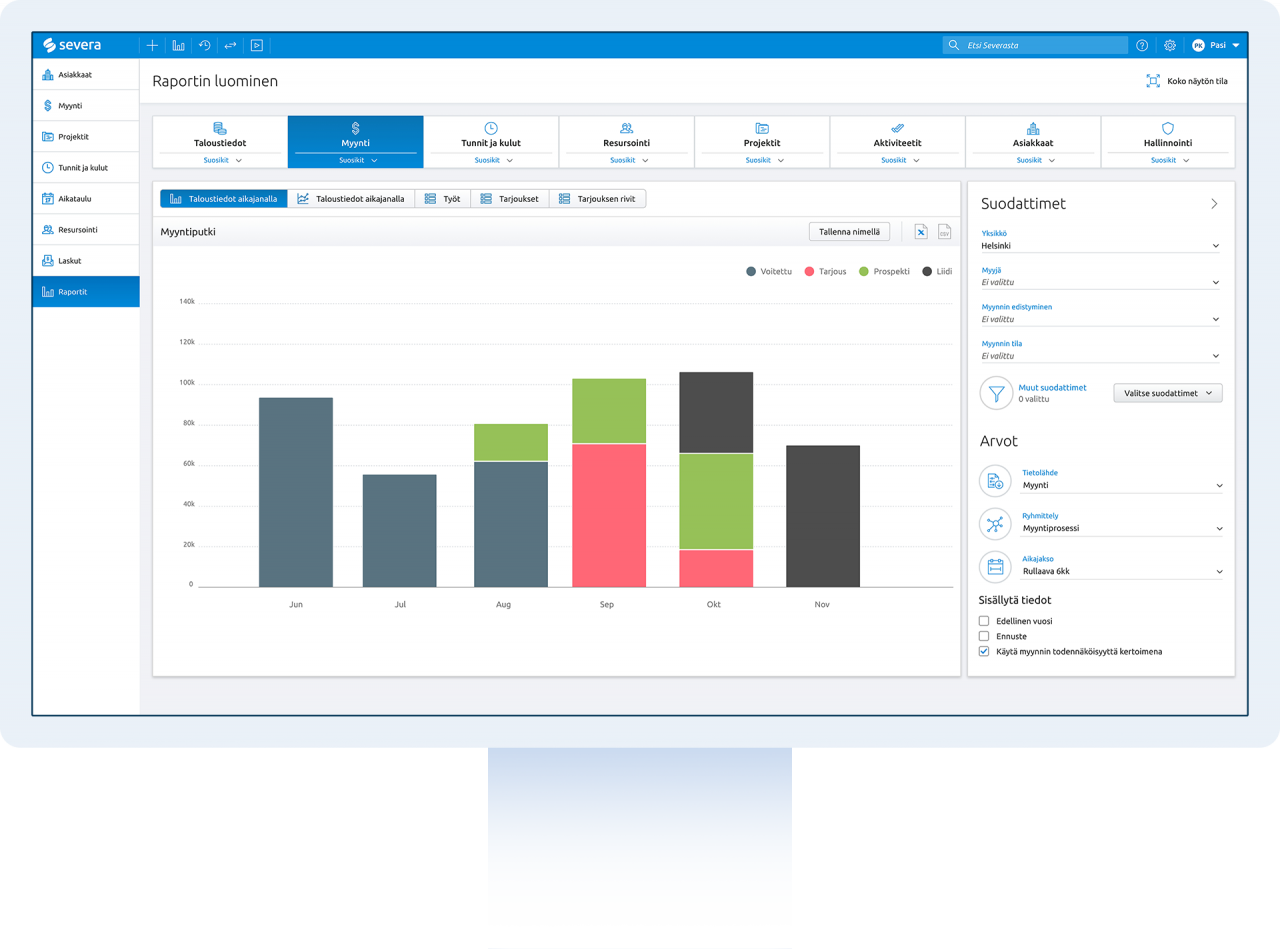 Don't manage by looking in the rearview mirror
Forget scattered Excel sheets, tables, and programs. Consolidate your data in one system that generates pre-built reports for easier decision-making.
See how your company is performing and proactively influence profitability and billing efficiency.
Explore the forecasts compiled by Severa and shift your management focus from analyzing historical data to looking ahead.
Engage your team and drive growth
Provide user-friendly tools for your experts, enabling them to streamline and automate their workday.
Create transparency that empowers individuals to proactively manage their own work and workload.
Aggregate your data and gain a view into the future – make informed decisions and lead your business towards growth.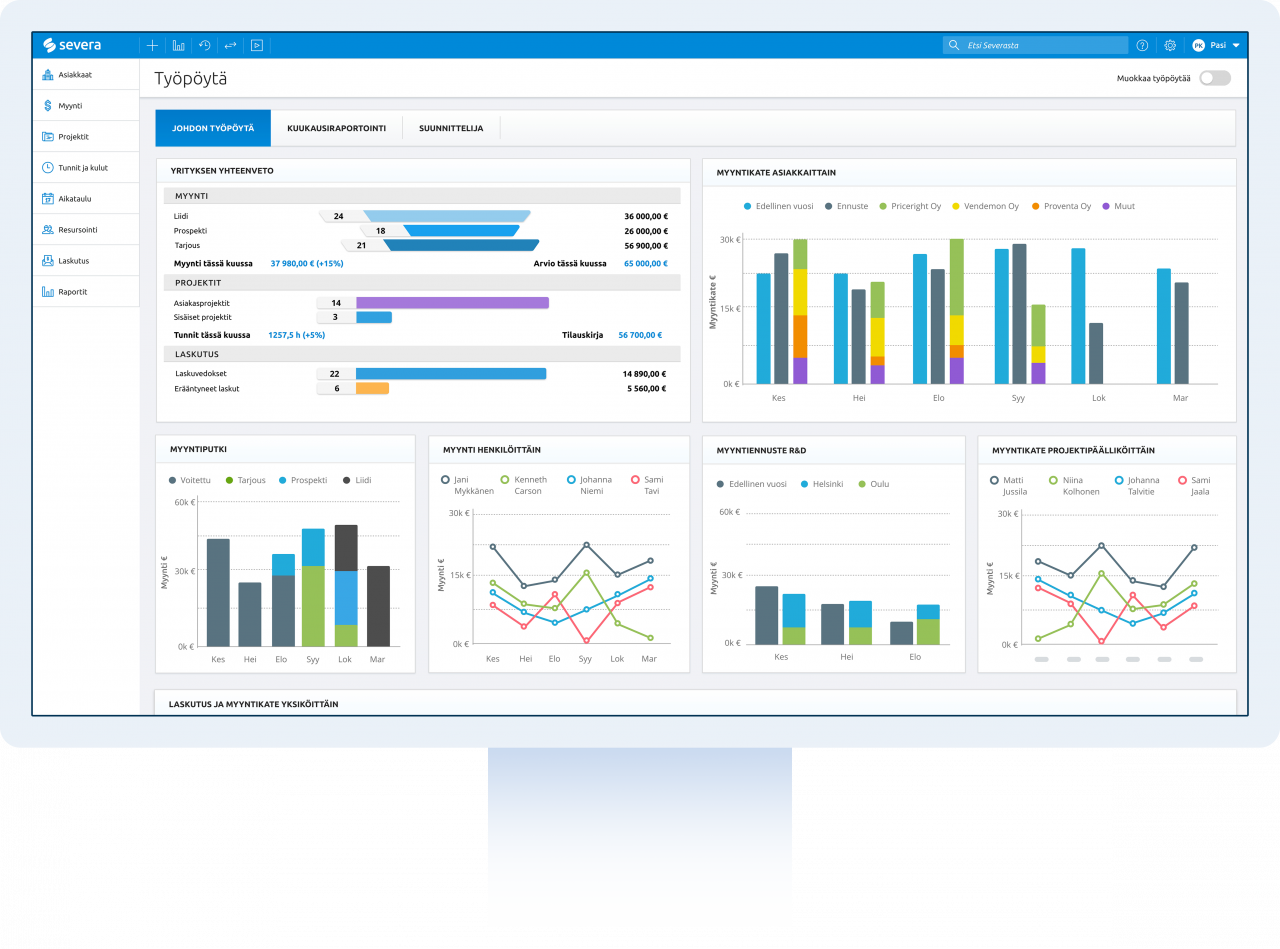 Integrate Severa with your favorite software applications
Severa can be seamlessly integrated with Netvisor and other popular financial management systems. In addition to nearly 50 ready-made integrations, you can leverage Severa's open REST API to connect software applications with Severa. Integration with Severa is also possible through Zapier, allowing for further connectivity options.
Lightweight implementation as a default
The best thing about Severa is that it has all the necessary functionalities while still being easy and straightforward to adopt into use. It doesn't require significant efforts to get it up and running for all employees.
Antti Savolainen – CEO, Despro Engineering Oy